Yayoi Aoba

Profile

Other names

Manager

Nationality

Japanese

Hair color

Red (1983), chestnut (CTJ), dark brown (2001)

Eye color

Black, brown (2001)

Relationships

Jun Misugi (fiancée)

Occupation

Former manager; college medicine resident

First appearance

Captain Tsubasa manga chapter 14
Yayoi is a support character in the Captain Tsubasa series.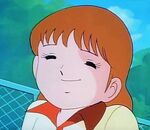 Before
Tsubasa Ozora
moved to the city of Nankatsu, Yayoi was his first and only friend. According to her, she had feelings for Tsubasa and was going to confess, but Tsubasa left with his parents for a better place to practice and get better in soccer, since all children did not like soccer in that city.
Later on, she moved to another school and became the manager of FC Musashi. Since she was fresh in the elementary school, she was teased by other classmates before Misugi stood for her. Due to his encourage, Yayoi finally established in the school and accepted to become the soccer club's manager. Yayoi really cared about Misugi, Musashi's captain, since he had a heart disease and playing soccer could endanger his life. She even told Tsubasa about her captain's condition, which affected a big part of the match until Tsubasa recovered and accepted to treat Misugi as an equal so that the latter will enjoy this "last game" before quitting soccer.
Thanks to Yayoi's concern and after two years of rehabilitation, Misugi could play again in his last year of middle school, this time for 30 minutes (which is equivalent to one half-time in Middle School games). They also started their romantic relationship after that, according to letters sent to Sanae, and she as well encouraged her to confess to Tsubasa on their senior Middle School year.
Yayoi continued to support Misugi when playing for Musashi middle school, during the Tokyo qualification rounds, where he was on the bench until the match against Kojiro Hyuga's Toho, where he scored two goals but still lost 2:3. Yayoi helped Misugi since he had already played minutes than allowed. She was together with Misugi when, during the finals between Nankatsu and Toho, Munemasa Katagiri approached him to offer the position of assistant coach, helping Tatsuo Mikami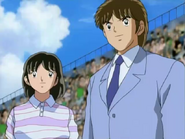 Immediately after the 16th National Middle School Tournament ended with both teams ending as champions, Misugi approached
Katagiri
when he did not hear his name for the 24 selected players for the training camp.
Afterwards, Misugi will indeed be of great assistance to coach Mikami, since it was Misugi's draft formation after observing the training matches for the following days that was to decide who the official members will be selected for All Japan Jr. Youth, with Tsubasa as pivot member of the team.

During these three years, Misugi spent the next three years of High school without playing, he transfered to a school that is specialized for future college medical students. In the
Holland Youth Special
, Misugi was only a tactical advisor. All this time and effort really paid since all this time allowed him to fully recover from his heart disease and was completely healed. Misugi now successfully took a selection test to be part of the
All Japan Youth
, showing that he masters now as well the miraculous long shoot, the
Drive Shoot
. Yayoi will gladly observe Misugi from now on how he becomes both a succesful medicine student as well as a great soccer pro player.
Yayoi is now Misugi's fiancée.
Yayoi Aoba and Sanae Nakazawa are managers of U-14 Japan, watching the match between the Japanese Jr. National Team facing a rematch international game against All Europe Jr. Youth.
Sanae Nakazawa, Kumi Sugimoto and Yayoi Aoba are managers of All Japan Jr. Youth, who are watching the training match.