Uzbekistan Youth (ウズベキスタンユース) is the national team that represented Uzbekistan.
Description
Edit
Uzbekistan was present during the 1st Asian Qualifiers Tournament that took place during the Battle of World Youth story arc. The Captain is Zangiev.
Manga

Home: Blue shirt with blue and white polo-style collar,  three stripes on the sleeves and white borders, white shorts with three blue stripes and white socks with three blue stripes on top. The captain armband is yellow. This color scheme is based on the uniform worn by the Uzbekistan team which won the 1994 Asian Games in Hiroshima.
Keeper: Green shirt with black shoulders and green polo collar, black shorts and white socks.
1994 anime: Blue shirt with white collar, white shorts with blue stripes and white socks with blue top. The goalkeeper wears a red shirt with blue shoulders and red collar, black shorts and black socks with red top.
World Youth - 2nd Asian preliminaries Edit
Group stage
| No. | Pos. | Player |
| --- | --- | --- |
| 1 | GK | Khlestov |
| 2 | DF | Jekin |
| 3 | DF | Radchenko |
| 4 | DF | Nazarov |
| 5 | DF | Luzimov |
| 6 | MF | Gaalin |
| 7 | FW | Popov |
| 8 | MF | Zangiev |
| 9 | MF | Tetradze |
| 10 | MF | Salenko |
| 11 | DF | Halin |
Zangiev
---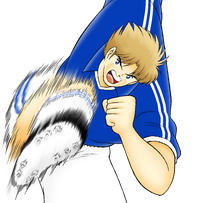 ---
#8 // MD