Uruguay Youth (ウルグアイユース, uruguai yūsu)is the team which participated in the World Youth tournament held in Japan. They faced Japan Youth in the qualifer rounds of said tournament. The team was organized by Japanese coach Matilda Jinnosuke, who trained new and younger players for the team, including the "Black Panther" Ramon Victorino[1] and the "Japanese Bomber" Ryoma Hino, both of whom created the Uruguay Combi.
World Youth Manga:
Home: Light blue shirt with white V-neck collar and AUF logo, black shorts with white sides and three black stripes and black socks with light blue on the top section.
Keeper: Black shirt with polo collar and AUF logo, black shorts and white socks.
Pre World Youth Edit
Current squad
Edit
| No. | Pos. | Player | Nat. |
| --- | --- | --- | --- |
| 1 | GK | Conzales | |
| 2 | DF | Paz | |
| 3 | DF | Olivares | |
| 4 | DF | Amerigo | |
| 5 | MF | Pedro | |
| 6 | MF | Tirhaca | |
| 7 | MF | Dionigi | |
| 8 | MF | Fengas | |
| 9 | FW | Ryoma Hino | |
| 10 | MF | Enrico | |
| 11 | FW | Ramon Victorino | |
Ramon Victorino
---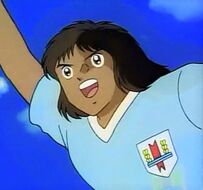 ---
#11 // F

Ryoma Hino
---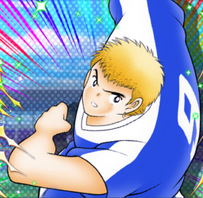 ---
#9 // F
↑ Who was a former member of the Uruguay Jr. Youth team