South Korea Youth


Profile
Japanese
大韓民国/韓国ユース
Captain
Yonun I
Manga:
Home: Red shirt with black vertical stripe on left side with a white vertical stripe and a white diagonal section at chest height, white collar, South Korean flag as emblem, white hoops on the sleeves, black shorts and red socks with white top. This color scheme is inspired on the Nike uniform worn by South Korea in the 1996 Atlanta Olympics qualification in 1995.
Home alternate: White shirt with white collar with red border and blue squares, red, black, blue and yellow abstract pattern on the front and sleeves, white and red sleeve borders with blue squares, blue shorts with the same abstract pattern on the shirt and white socks. This uniform is inspired on the South Korean uniform worn in the 1994 Asian Games. In the manga this uniform was only seen in the pages where are shown the captains of the Asian Youth teams.
Away: White shirt with blue collar, blue diagonal side stripes, red shorts and white socks, with blue shirt numbers. This uniform was worn against Iraq Youth.
The goalkeeper wears a green uniform with a green shirt with white collar and cuffs.
World Youth - 2nd Asian preliminaries Edit
Group stage
Final round
World Youth Edit
Group stage
Membres:
Edit
Yonun I
---
---
#10 // F

Inchon Cha
---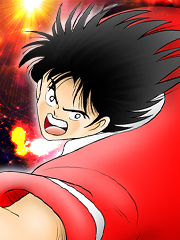 ---
#9 // F
Kildan Hon
---

---
#1 // G