South Korea Youth
(韓国ユース) is the
South Korea
national selection team who participated in the 2nd Asian preliminaries held in
Jakarta
.
South Korea Youth
faced Japan Youth in the qualifier rounds of the 2nd Asian preliminaries. The team is led by captain "Gentle Tiger"
Lee Yong-un
and has "Strong Tiger"
Cha In-chon
as their main offensive weapon.


Manga

Home: Red shirt with black vertical stripe on left side with a white vertical stripe and a white diagonal section at chest height, white collar, South Korean flag as emblem, white hoops on the sleeves, black shorts and red socks with white top. This color scheme is inspired on the Nike uniform worn by South Korea in the 1996 Atlanta Olympics qualification in 1995.
Away: White shirt with white collar with red border and blue squares, red, black, blue and yellow abstract pattern on the front and sleeves, white and red sleeve borders with blue squares, blue shorts with the same abstract pattern on the shirt and white socks. This uniform is inspired on the South Korean uniform worn in the 1994 Asian Games. In the manga this uniform was only seen in the pages where are shown the captains of the Asian Youth teams.
Second away: White shirt with blue collar, blue diagonal side stripes, red shorts and white socks, with blue shirt numbers. This uniform was worn against Iraq Youth.
Keeper (World Youth): A dark green shirt with white collar, dark green shorts and white socks.
Keeper (2018, Dream Team): A june bud (green) uniform with a green shirt with an orange print motif and cuffs.
2nd Asian preliminaries (Group stage)
Kuwait Youth
WIN
N/A
Group stage Round 1
Syria Youth
WIN
N/A
Group stage Round 2
Iraq Youth

DRAW

N/A
Group stage Round 3
Indonesia Youth
WIN
N/A
Group stage Round 4
2nd Asian preliminaries (Final stage)
Saudi Arabia Youth
WIN
2 - 1
Semi-Final
All Japan Youth
WIN
2 - 0
Final
World Youth Tournament (Group stage)
Mexico Youth
WIN
2 - 1
Group Stage Round 1
Uruguay Youth
WIN
6 - 5
Group Stage Round 2
Italy Youth
WIN
4 - 0
Group Stage Round 3
World Youth Tournament (Final Tournament)
Argentina Youth

LOSS

N/A
Group Stage Round 1
Netherlands Youth

LOSS

N/A
Group Stage Round 2
Ghana Youth
WIN
N/A
Group Stage Round 3
Lee Yong-un
---
---
#10 // F

Cha In-chon
---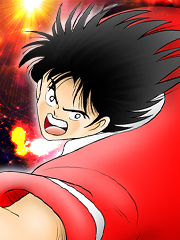 ---
#9 // F
Hong Kil-dang
---
---
#1 // G