São Paulo FC is the pro soccer club where Roberto Hongo originally played for and later trained Tsubasa to become a regular and later captain of the team.
Strategy
Edit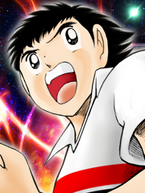 When Tsubasa debuted on the team, he became the pivot gamemaker, with the assist of captain Radunga as volante. Tsubasa in the two year gap before the
Battle of World Youth
arc, he mastered the
Flying Drive Shot
which he used to score, together with the overhead, volleys, and other great techniques of his own, as well as doing great assists with his
Drive pass
. Even so, Tsubasa also relied on his sempais two-top forwards and later on with the help of
Pepe
(who debuted later on), he was able to make the São Paulo Combi with him. On the match against
Santana
's
CR Flamengo
, he learnt to do the
Santana Turn
and in
Road to 2002
manga, he was able to do a two-step overhead in order to do the final goal.
Brazil national championshipEdit
Campeonato Brasileiro Série AEdit
Rio São Paulo LeagueEdit
| Goalkeepers | Defenders | Midfielders | Forwards |
| --- | --- | --- | --- |
| | | | |
To be updated
↑ Radunga was the captain of the team until he left to join Deportivo de La Coruña.
↑ Tsubasa was Radunga's succesor until he left to join FC Barcelona.
↑

Formerly, before his pass contract to a Spanish club.