Roberto Hongo

Kanji

ロベルト 本郷

Nationality

Brazilian/Japanese

Personal information

First appearance

Captain Tsubasa chapter 1
A
Brazilian
of
Japanese
descent, former pro player and number 10 of the Brazilian national team, Roberto was diagnosed with detachment of the retina, forcing him to retire. He was very depressed and even tried to commit suicide, but was saved by
Kodai Ozora
, who told him to go to Japan. In Japan, Roberto found a new purpose in life by training the young
Tsubasa Ozora
. Following that idea, he suggested to train him in Brazil. Despite the approval of Tsubasa and his parents, Roberto changed his mind after that. He returned to Brazil alone, right after Tsubasa's victory in the Japanese elementary national championship, leaving a letter explaining to Tsubasa that he wasn't ready to train Tsubasa, leaving a book with annotations on how to become a great pro soccer instead.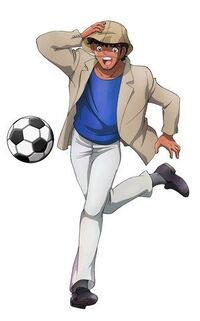 In these annotations, it was included the powerful and magnificent
Drive Shoot
, a technique that was to help
Tsubasa
succeed in winning the Japanese Middle School championship three times in a row.
Roberto became the coach of the São Paulo club's juveniles division. He cried when he saw a video of Tsubasa sent by the Japanese soccer organization to various Brazilian clubs. During a campaign in Paris, he went to see Tsubasa's matches in the International Jr. Youth Tournament. Here, he met Katagiri. Roberto asked Katagiri not to tell Tsubasa about him, feeling that he's not ready to face Tsubasa because of his broken promise. However, Katagiri asked him to become Tsubasa's personal coach, since he didn't want Tsubasa's talent to go to waste. After the match between All Japan Jr. Youth and Argentina Jr. Youth where Tsubasa's Soccer Prodigy was noticed by coach Barbas. Barbas had a chat with Roberto, wanting to take Tsubasa to Argentina. Roberto stayed to watch Tsubasa's matches after his team left for Brazil, and finally, after the match between All Japan Jr. Youth and West Germany Jr. Youth, Roberto met Tsubasa again and asked Tsubasa to go with him.
Roberto trained Tsubasa for three years in Brazil, with much success. Witnessing Tsubasa's success in the pro Brazilian championship with São Paulo FC, he showed one last technique - the Sky Wing Shoot - to Tsubasa before becoming Brazil Youth's coach. Roberto had built a team without a number 10, because according to him, most of the teams Japan faced had lost because Tsubasa defeated their number 10. Yet, after seeing a video of a Brazilian prodigy, he decided to keep under his sleeve this secret player wearing the number 10. Under his guidance, the team had wonderful results and reached the final of the World Youth, facing Japan. Although his tactic worked extremely well at first, Japan's teamwork finally defeated Brazil, forcing Roberto to let his secret number "10", Natureza come onto the field. Successful at first, Japan still managed to win, thanks to an incredible sink or swim offense. Roberto admitted that Tsubasa had surpassed him but that their fight will go on.
Thanked by Tsubasa before his departure to Europe, Roberto approved Tsubasa's choice of going to Barcelona, stating that Rivaul would teach him much. He went to see Tsubasa's debut in El Clásico, after reassuring him. Seeing Tsubasa play, Roberto thought that Tsubasa would probably realize the dream that he couldn't fulfill.
Special techniques
Edit
Dribble
Drive Shoot: A special "power shoot", signature from South American players, the same which Roberto left Tsubasa to learn through Roberto's book annotations for the Boys' Fight arc.

Flying Drive Shoot: An improved version of the Drive Shoot which had a more curved effect. Tsubasa master it for the São Paulo FC final season tournament.

Heel Lift: A 'self-pass' ability by crossing over with the opposite foot and lift the ball up.
Overhead Kick: An aerial technique. The shots main advantage is the speed and angle gained from this position.

Off the Bar Overhead Kick: The overhead kick after the ball bounced off the bar.

Sky Wing Shoot: The last shot Roberto taught Tsubasa before his departure as Brazil Youth coach.
His name was adapted to Roberto "Maravilha" ("Roberto Wonder") in the Brazilian dub of Captain Tsubasa J, based on players who had the same nickname, Dario José dos Santos and Túlio Humberto Pereira Costa (who was in activity by the time of the dub). In Road to 2002 anime dub, his name wasn't changed.
His character was probably based on Eduardo Gonçalves de Andrade, a Brazilian former soccer player who also retired because of detachment of the retina.
In Brazilian dub, he is voiced by Alfredo Rollo, who also voiced popular anime characters such as Vegeta in Dragon Ball Z/GT, Brock in Pokémon, Tatewaki Kuno in Ranma 1/2 and Gaurry in Slayers.
In the Latin American and European Spanish dubs, his name is Roberto Zedinho. In the Italian dub, his name is Roberto Sedinho.
↑ Exclusively in Captain Tsubasa: Sekai Daikessen!! Jr. World Cup (1986 film)