Ricardo Espadas


Profile
Japanese name
リカルド・エスパダス
Nickname(s)
Aztec Condor
Miracle Keeper
Nationality
Mexican
Position(s)
Goalkeeper
First appearance
World Youth chapter 49
Career
Level
Team
Number
National
Olympic Mexico
1
National
Mexico Youth
1
Club
Everton
Ricardo Espadas is the goalkeeper and captain of the Mexican youth team, the first opponent of All Japan Youth in the World Youth. An orphan, he was born at Mexico City slums and quickly befriended García, Saragosa, Alvez, Suárez and López, the Five Aztec Warriors. The six of them are like family. He is based in real-life Mexican goalkeeper Jorge Campos. His main characteristic is that he does not stay in his area, but goes out, does overlaps, assists his team and scores goals.
Childhood
Edit
Espadas and the Five Aztec Warriors grew up in the slums at Mexico City, being each other's family, living at orphanages. They discover that they are very talented at soccer, and develop an aerial combination of Lucha Libre (Mexican Wrestling) and soccer. As kids, they even manage to beat adults. Espadas is a prodigious player, and helps his team doing overlaps, not just staying at the goal. He loved soccer, as did his friends, but with time, he grew tired and hateful towards his poverty and saw in soccer the opportunity to get hired by a powerful club and stop being poor.
World Youth
Edit
Espadas and Mexico matched against Japan in the inaugural match for the World Youth, a day after Espadas confronted Tsubasa and destroyed a ball in front of him to show him how he hated soccer. During the match, the Five Aztec Warriors' aerial Lucha Soccer Style was annulled by the Tachibana twins. Espadas managed to score to Wakashimazu during the second half, and ordered his team to retreat and wait for the time to end. Tsubasa managed to assist Aoi after the Drive Shoot, the Raiju Shoot, the Kamisori Shoot and the Hayabusa Shoot had failed. On extra time, Tsubasa assisted Hyuga, who hurted Espadas' hand by shooting a Raiju Shoot in the inner area. Even though losing, Espadas remembered after the match how much he loved soccer, and how he used to play despite the injuries, even if it was in the slums and not in a tournament for all the big soccer clubs in the world to scout.
Rising Sun
Edit
He is currently playing for Everton, and is also part of the Olympic Mexico team.
Espadas' Jerseys
Edit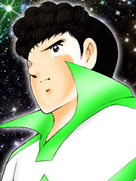 Espadas wears 3 different jerseys. While all of them have the same zigzag design, one has many colors, while the other is white and the last one black. The white one means that Mexico has to attack with all of its might, while the black one says they must put all their effort in defense. The one with many colors is the regular one. This design was inspired by the Mexican Goalkeeper Jorge Campos in the 90's.
Special techniques
Edit
Espadas and the Mexican team appeared in the cover of Volume 16 of the World Youth.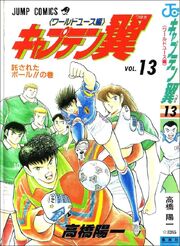 Ad blocker interference detected!
Wikia is a free-to-use site that makes money from advertising. We have a modified experience for viewers using ad blockers

Wikia is not accessible if you've made further modifications. Remove the custom ad blocker rule(s) and the page will load as expected.