This is the team that represents both West Germany and East Germany for the Olympics Tournament, held in Madrid.
This team - considered by many the favorite one to win the tournament - has players who had good performance in previous tournaments, led by
Karl Heinz Schneider
. Many of these players are already known, since they have encountered
Japan
in the U-16 International Jr. Youth Tournament.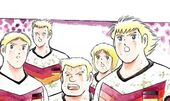 Among many strong rivals, they faced Olympic Brazil in their group, ending with a tie. In the quarterfinals, they face Olympic Japan, and this time both teams are equally matched. This ensemble German team appears in the Rising Sun manga.
Madrid OlympicsEdit
Group stage
| Goalkeepers | Defenders | Midfielders | Forwards |
| --- | --- | --- | --- |
| | | | |