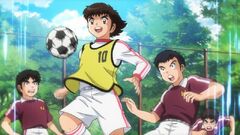 Masao Nakayama is a member of
Nishigaoka elementary school
, a soccer team in the city of Nankatsu. This team is a fellow neighbor district soccer team of the Nankatsu City.
Coach Roberto Hongo from Nankatsu soccer club, arrange a practice game against Nishigaoka. Its captain, Hanji Urabe, together with Nakayama and the others, started to boast about how Shutetsu won with 30 points difference against Nankatsu, and that they just pretended to do the same in order to beat Shutetsu. This left Tsubasa, Ishizaki and the their team determined to play to their full power. The forward Nakayama by this time was doing combi play with Urabe but they both failed to do precise passes since Tsubasa intercepted most of them, and then counterattacked by doing his Bullet shot, dribbling many players at once, or doing precise passes to other players such as Iwami and Ishizaki. This strategy made Nankatsu win against Nishigaoka 5:2.
Later on, he took part in the selection test for the Nankatsu SC special team, and quickly drew attention from Coach Tadashi Shiroyama. Then, he became a regular defender with Urabe, Takeshi Kishida, Takasugi and later Ishizaki (as replacement for Koji Nishio).
In middle school, Nakayama didn't join Nankatsu and followed Urabe to the soccer team of Otomo. Like the other, he went through harsh training to be able to beat Tsubasa. He, along with Hanji Urabe, Takeshi Kishida, Koji Nishio, formed the Otomo Quartet. Although they progressed much in physique and abilities, they still lost the match against Nankatsu, despite putting up a good fight. After that, he joined Urabe in supporting Nankatsu in the 16th Middle School national tournament. He didn't make it to the All Japan Jr. team, but still followed their matches through National TV.
For the preparations of the
J Boys' Challenge
arc, Tsubasa faced the Otomo Quartet in a friendly match, being able to defeat each and every one of them, proving that Tsubasa was full recovered from his previous injuries in the Tournament and has surpassed them all at once, managing to score with a succesful
Drive Shoot
against
Ichijo
.
Afterwards, he attended Nankatsu high school and the soccer team as well. Afterwards, he attended Nankatsu high school and the soccer team as well. For the finals of the National high school Tournament, there was the final match between Toho Academy and Nankatsu, where Nakayama was wearing the #3 uniform, playing along Captain Ishizaki, the Team Star Taro Misaki and his fellow comrades Urabe, Kishida, and Nishio. Nonetheless, they were not able to defeat Hyuga and Wakashimazu.
Later on, for the World Youth Asian Preliminaries preparations, he was also selected to be a member of All Japan Youth; however, he didn't have a chance to play in any match.
It is unknown if he joined any J-League club at all.
Special techniques
Edit
Combi play (with Hanji Urabe)
Otomo Quartet
Sliding Tackle
His name is Marcos in the Latin American dub and Bart Johnson in some European countries.