Larson


Profile
Japanese name
ラーソン
Nickname(s)
Knight of the Midnight Sun
Nationality
Swedish
Birthday
July 19
Height
174 cm (BWY)
Weight
63 kg (BWY)
Blood type
O
Position(s)
Midfielder
First appearance
World Youth Hen (1994) chapter 46 "The soldiers' decision!"
Career
Level
Team
Number
Youth National
Sweden Youth
7
Club
Unspecified Spanish club
 ??
Larson, also translated as Larsson[1], is a Swedish midfielder and one of the fastest players in Sweeden. Along with Stefan Levin, Brolin and Fredericks, they form the "Four Knights of the Midnight Sun".
Larson was part of the Viking Project, a plan of Sweden to assimilate the football of other countries. With that purpose, he plays in an unspecified Spanish club. This project served as a base for another one, the Victory Project, in which data of the opponents' players was thoroughly studied.
Battle of World Youth Arc
Edit
World Youth Tournament
Sweden's plan for the group stage of the World Youth is ending up second, so that they will be able to avoid Brazil in the knockout stage. Therefore, they purposely tie against Colombia and USA, with the captain Levin not playing those two matches. And, during the last match of the group stage against Germany, with both Deuter Müller and Karl Heinz Schneider injured due to the Levin Shot and Germany being thoroughly studied, Sweden manages to win 5-3, thus ending up second as planned. At the beginning of the quarterfinal against Japan, thanks to cooperative plays between Levin, Fredericks and Larson himself, where he steals the ball from Shingo Aoi and then gets past Misugi. However, Akai Tomeya takes the ball later from Levin.
Later on, Larson attempts to score with his S.S.S., however Wakabayashi comes out of his goal to block it. The first half ends 0-0.
Sweden decides to change their tactic at the beginning of the second half, using Brolin, Larson, Fredericks, Ljung and Ravelli as decoys in order to give Levin free space to shoot. Here, some certain events occur, which marks the change in Levin. After that, the team becomes more united, however the score remains 0-0 after 90 minutes.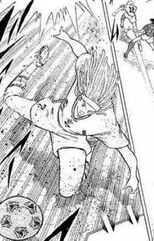 During extra time, Tsubasa Ozora manages to score the golden goal for Japan Youth, thus eliminating Sweden from the tournament.
Abilities and special techniques
Edit
High-Speed Dribble: Larson's dribbling technique, which involves taking advantage of his own speed.
S.S.S. (Speedy Sliding Shot): This special shot takes advantage of Larson's incredible speed. He rushes up the pitch, dribbling at full-speed, and without slowing down slides and unleashes a powerful shot.
Both his name and his appearance are based on the former Swedish footballer Henrik Larsson.
↑

A common confusion due to Romaji transliteration from Swedish.