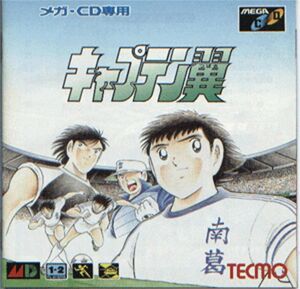 Captain Tsubasa (キャプテン翼 kyaputen tsubasa) is a Sega Mega CD videogame developed by Tecmo. It was released in September 30 1994. It has the same style as the rest of Tecmo's Captain Tsubasa games but with better graphics and sound (voice acting).
The game follows the manga version of the first series. The plots begins with Tsubasa Oozora's first encounter with Genzo Wakabayashi in the childhood arc, and ends with Tsubasa's final confrontation with Kojiro Hyuga in the Middle School National championship. 
External links
Edit
Ad blocker interference detected!
Wikia is a free-to-use site that makes money from advertising. We have a modified experience for viewers using ad blockers

Wikia is not accessible if you've made further modifications. Remove the custom ad blocker rule(s) and the page will load as expected.