Captain Tsubasa (2018)


Profile
Japanese name
キャプテン翼
First appearance
April 2nd, 2018
Career
Level
Team
Number
Captain Tsubasa (キャプテン翼) is a 2018 anime series broadcasted by TV Tokyo in Japan on April 2018. The series has two seasons of 26 episodes each. This new anime is made honoring the 2018 FIFA World Cup in Russia.[1] Viz Media will be Licensing the New Captain Tsubasa Anime.[2]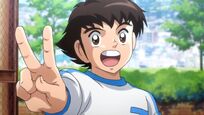 Captain Tsubasa
is a story of 11-year-old
Tsubasa Ozora
who started playing soccer at a very young age, a sport which developed for him into something deeper (his thoughts and dreams revolve almost entirely around the joy of soccer). In order to pursue his dream to become the world's best soccer player
[3]
, Tsubasa moves with his mother to Nankatsu city. Since this is a more competitive town in soccer, he will need all of his skills and talents in order to stand out. He encounters not only rivals, but also new friends like his gutsy friend
Ryo Ishizaki
, the cheerleader
Sanae Nakazawa
, and S.G.G.K.
[4]
Genzo Wakabayashi
, and
Roberto Hongo
a former pro soccer player who will help him push towards his dreams.
Season 1 of the Anime is confirmed to be a retelling of the Kids' Dream arc, combining both Original Manga and Modern-era elements. Most of the characters uniforms, cloths, and color palettes are now more faithful to the manga[5].
Characters
Edit
Main Characters
Edit
Tsubasa Ozora: A natural soccer prodigy. Tsubasa has always been with a ball ever since he was born, even if others did not understand his passion. His creed is the "Soccer ball is my friend".
Genzo Wakabayashi: A genius, champion goalkeeper from Shutetsu. His creed is "no one can beat me outside the penalty area." After accepting Tsubasa's duel, he becomes his eternal rival and later friend.
Ryo Ishizaki: The first person whom Tsubasa meets after moving into Nankatsu. Even if lacking skills, his inherent guts and determination lead him to persevere in his efforts.
Taro Misaki: Due to his father's work as an artist, Misaki always move from town to town, and has just transferred into Nankatsu school. He is just as skilled as Tsubasa. Taro is perfectly in sync with Tsubasa so that they are known as the Golden Combi.
Support characters
Edit
Main article: Captain Tsubasa support characters
Main article: Nankatsu SC
This lead team consists of grade school players from Nankatsu city, who were selected for the entrance exams. At first, the captain is Genzo Wakabayashi but due to his injuries he gave the lead to Tsubasa Ozora, demonstrating a great leadership in leading the team to win the 6th Yomiuri Land National Juveniles Tournament.
Main article: Elementary school teams
Kojiro Hyuga: Tsubasa's main rival (and later deuteragonist) from Meiwa FC, with a strong and raw playstyle which is the opposite of Tsubasa's clean and technical feats.
Ken Wakashimazu: An unmatched goalkeeper as talented as Wakabayashi who combines karate-style techniques original from his dojo with some acrobatic play and speed.
Takeshi Sawada: Hyuga's younger and talented soccer partner. Trained by coach Kira as well, he has the utmost respect for Hyuga, and helps him to the best of his abilities when he has troubles, though he doesn't hesitate to point out his mistakes.
Jun Misugi: A talented star which has a superior technique and understanding of soccer than Tsubasa.[7]. Misugi has a heart disease, preventing him from playing a full match without endangering his life. However, he decided to play full time in the semifinals, eager to give it his all against Tsubasa.
Hikaru Matsuyama: Though he isn't a soccer genius, he is persistent and hard-working. Thanks to his hard work, he has many good skills. He also has true understanding of teamwork.
Other teams Edit
Cast and staff
Edit
Japanese staff
Edit
Director: Toshiyuki Kato
Series composition: Atsuhiro Tomioka
Music: Hayato Matsuo

Sound Director: Yoshikazu Iwanami
Character design, chief animation director: Hajime Watanabe
Animation Studio: David Production
Japanese cast
Edit
Opening and Ending
Edit
Captain Tsubasa (2018) Teaser Trailer
Main Characters Edit
Support Characters Edit
Promos, illustrations, othersEdit
External links
Edit
See also
Edit