Captain Tsubasa
TV series
Chief director
Toshiyuki Kato (supervision)
Hirofumi Ogura (series director)
Producer(s)
Unknown
Scenario
Atsuhiro Tomioka
Music
Hayato Matsuo
Studio
David Production
Network
TV Tokyo
Released
2018-04-02 ~ ongoing
Episodes
52+
Captain Tsubasa
(キャプテン翼) is a 2018 anime series broadcasted by
TV Tokyo
in Japan on April, and on Cartoon Network on June 2018. The anime is made honoring the
2018 FIFA World Cup
which was held in Russia.
[1]
Captain Tsubasa is a story of 11-year-old Tsubasa Ozora who dreams to become the world's best football player and win the World Cup[n 1]; his thoughts and dreams revolve almost entirely around the joy of football. In order to pursue his dream, Tsubasa moves with his mother to Nankatsu, where he will need the best of his abilities to stand out. He encounters not only rivals, but also friends such as the gutsy Ishizaki, the cheerleader Sanae Nakazawa, genious keeper Wakabayashi, and Roberto Hongo, a retired Brazilian football player who will help him push towards his dreams.
Licensing in other countriesEdit
Viz Media has Licensed the New Captain Tsubasa Anime[2], and Cartoon Network LA is distributing both Spanish and Portuguese (Brazil) dubbed versions. After a 4-episode premiere in movie theaters within Mexico, Chile, and Peru, the series is being dubbed in sets of 4~5 episodes monthly.[3]
Kid's Dream arcEdit
Season 1: The first set of 28 episodes[4] is confirmed to be a retelling of the Kids' Dream arc, combining both original manga and modern-era elements. Most of characters' uniforms, clothes, and color palettes are more faithful to the manga [5].
Boys' Fight arcEdit
Season 2: TV Tokyo revealed on July 23, 2018 that the anime will enter the story's Middle school (Boys' Fight) arc[6] in October. revealed a visual (seen below) of Tsubasa and Kojiro's middle school appearances in Nankatsu middle school and Toho Academy middle school[6] respectively.
Characters
Edit
Main Characters
Edit
Support characters
Edit
Friends, family and coaches

Lead team members

This lead team consists of grade school players from Nankatsu city, who were selected for the entrance exams.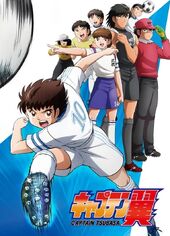 Nankatsu MS teammates

This is the lead team for the Boys' Fight arc, in the junior high school tournament.
Other school teams
Edit
Kojiro Hyuga: Tsubasa's main rival (and later deuteragonist) with a strong and raw playstyle which is the opposite of Tsubasa's style. He later develops a power shot to outmatch Tsubasa.
Ken Wakashimazu: An unmatched goalkeeper who combines karate-style techniques with some acrobatic play and speed.
Takeshi Sawada: Hyuga's younger talented football partner, trained by coach Kira.
Jun Misugi: A talented star which superior technique and understanding of football than Tsubasa.[n 3]. Misugi has a heart disease, preventing him from playing a full matchm deciding to have a final full semifinals match against Tsubasa.
Hikaru Matsuyama: Though he isn't a football genius, he is a persistent and hard-working player.
| # | Title | Airdate |
| --- | --- | --- |
| 1 | Soar Toward the Great Sky! (大空にはばたけ!, Ozora ni Habatake!) | 2018-04-03 |
| 2 | Take Flight! (とんだっ!, Tonda!!) | 2018-04-10 |
| 3 | New Nankatsu Football Club Start (ニュー南葛小サッカー部スタート, New Nankatsu Sho Soccer Bu Start) | 2018-04-17 |
| 4 | Tsubasa and Roberto (翼とロベルト, Tsubasa to Roberto) | 2018-04-24 |
| 5 | On their Way to the Inter-School Tournament (対抗戦へ向けて, Taikousen e Mukete) | 2018-05-01 |
| 6 | Kick-off! Nankatsu vs Shutetsu (キックオフ! 南葛VS修哲) | 2018-05-08 |
| 7 | Fantasista Tsubasa (ファンタジスタ翼) | 2018-05-15 |
| 8 | Birth! Nankatsu Golden Combi (誕生! 南葛黄金[ゴールデン]コンビ, Tanjo! Nankatsu Golden Combi) | 2018-05-22 |
| 9 | A Refreshing Ending (さわやかな幕切れ, Sawayaka na Makugire) | 2018-05-29 |
| 10 | Kojiro Appears (小次郎あらわる, Kojiro Arawaru) | 2018-06-05 |
| 11 | A Surprisingly Difficult Match (思わぬ苦戦, Omowanu Kusen) | 2018-06-12 |
| 12 | Crushing Wakabayashi (若林つぶし, Wakabayashi Tsubushi) | 2018-06-19 |
| 13 | And Then, the Nationals! (さァ全国だ!, Sa Zenkoku Da!) | 2018-06-26 |
| 14 | Burn Nankatsu: Defeat Meiwa! (燃えろ南葛 明和を倒せ!, Moero Nankatsu: Meiwa o Taose!) | 2018-07-03 |
| 15 | I Can't Lose Because It's My Dream! (夢だから負けない!, Yume Dakara Makenai!) | 2018-07-10 |
| 16 | This Is Acrobatic Football! (これがアクロバットサッカーだ!, Kore ga Acrobat Soccer Da!) | 2018-07-17 |
| 17 | The Remaining 4 Minutes! Decisive Air Battle (のこり4分! 空中決戦, Nokori 4 Pun! Kuchu Kessen) | 2018-07-24 |
| 18 | Let's go! The Decisive Tournament (いくぞ! 決勝トーナメント Ikuzo! Kessho Tournament) | 2018-07-30 |
| 19 | Fierce fight! Meiwa vs Furano (激闘! 明和VSふらの Gekito! Meiwa VS Furano) | 2018-08-06 |
| 20 | Musashi's Secret Plan (武蔵の秘策, Musashi no Hisaku) | 2018-08-13 |
| 21 | The Ace of Glass (ガラスのエース, Glass no Ace) | 2018-08-20 |
| 22 | Additional Time of Destiny (運命のアディショナルタイム, Unmei no Additional Time) | 2018-08-28 |
| 23 | The Genius Goalkeeper Revival! (天才キーパー復活!, Tensai Keeper Fukkatsu!) | 2018-09-04 |
| 24 | Tenacity, Definitely Tenacity! (執念... まさに執念!!, Shunen... Masa ni Shunen!!) | 2018-09-11 |
Cast and staff
Edit
Japanese staff Edit
Director: Toshiyuki Kato
Series composition: Atsuhiro Tomioka
Music: Hayato Matsuo
Sound Director: Yoshikazu Iwanami
Character design, chief animation director: Hajime Watanabe
Animation Studio: David Production
Japanese cast Edit
Theme songs
Edit
In the third teaser trailer before the release of the 2018 series, it is shown how Tsubasa is training with Nishigaoka elementary school - probably for the football selection test to be chosen for the Nankatsu City Selection Team - using a clothing similar

to the Nankatsu junior high uniform (white with red stripes jersey), similar to the used in the 1983 Anime (Boys' Fight arc).
The Latin American/Brazilian versions ditched the original opening and ending themes using a new song composed for these versions, but keeping the opening and ending animations. The ending theme is the same as the intro, but only instrumental[7].
In the 2018 anime, many main characters have different coloured cleats. Azure for Tsubasa, SkyBlue for Misaki, Dark red for Hyuga, and Silver for Misugi.
Captain Tsubasa (2018) Teaser (Japanese / Latin American Dub)
↑ Representing Japan in the FIFA World Cup is Tsubasa's ultimate dream, which will take a lot more than talent to reach it.
↑

Anego is a nickname which stands for "Big sis" due to her tomboy personality.

↑

Misugi has a keen perception that enables him to read the opposing team's formation and tactics even when he is not playing on the field; not to mention his ability on how to control his opponent's movements
References
Edit
External links
Edit