Boku wa Misaki Taro (1984)
Talk

0
600pages on
this wiki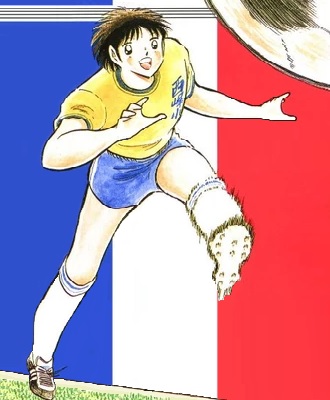 Boku wa Misaki Taro (ボクは岬太郎), translated as I am Misaki Taro, is a special short story originally published in the magazine Flesh Jump by Shueisha in 1984. The story focus on the character Taro Misaki after he left Nankatsu but before he travels to France in the original series. The story was later published in a single special tankobon.
In this story , Taro is in a new region of Japan while his father, Ichiro Misaki, has a painting exhibiton. His father is getting prepared to travel to France in order to improve his skills. In the exhibiton, Ichiro meets his former wife Yumiko Yamaoka, who requests to take care of Taro while his father is in France. Meanwhile, Taro has made new friends in a new football team and after his friends' mothers pick them up he wonder how her mother would be. Ichiro relates his encounter to Taro and informs hims that he wants him to stay with Yumiko since he feels that Taro has a big talent for football and thinks that he has been unable to raise him properly. Next day, Taro has a football match in which he shows his talents and kindness at the same time by making it possible for one of his friends to fully play football despite the protest of her mother. When Taro and his father get to her mother's house in Yokohama, the house of the family Yamaoka, Taro caughts a glimpse of her mother, being this the first time that he sees her, and is happy to see that she is just as she imagined her. As his father prompts him to go inside, Taro stops hims and tells happily crying tells his father to leave the house, as he has decided to go to France with his father, and telling him "I'm... I'm still Taro Misaki, not Taro Yamaoka. I am Taro Misaki." As the story ends, Taro leaves for France.
This one shot was adapted in the original Captain Tsubasa anime series in Episode 66 "ヨーロッパ発翼くんへ"
"Departure for Europe, to Tsubasa."